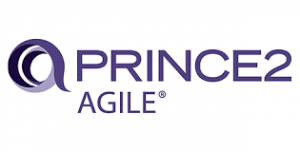 Upcoming Classes (Virtual)
PRINCE2Agile Foundation: October 18, 19 & 20 January 24, 25 & 26
PRINCE2Agile Practitioner: October 14 & 15 February 3 & 4
Why should I take the PRINCE2 Agile course?
PRINCE2 Agile represents an evolution of PRINCE2, being the first extension module to the PRINCE2 method. This certification helps you to tailor PRINCE2 for your organization in an agile way. Since the 2001 Agile Manifesto, agile approaches are becoming more popular for many reasons:
Incremental delivery of products
Time box and iterative approach to delivering
A collection of techniques such as daily stand-up meetings, sprints and users' stories
Collaboration working
PRINCE2 Agile describes how to configure and tune PRINCE2 so that PRINCE2 can be used in the most effective way when combining it with agile behavior, concepts, frameworks and techniques.
Certification levels
PRINCE2 Agile Foundation (2 days)
PRINCE2 Agile Foundation and Practitioner (4.5 days)
PRINCE2 Agile Practitioner (2.5 days) * you must hold a Foundation certificate or equivalent see prerequisites
PRINCE2 Agile for PMPs (4.5 days) * PMPs and CAPMs are eligible to skip the Foundation exam with a current certificate.
What is included?
The course includes:
Classroom training from a PRINCE2 Agile Approved Trainer
Official manual:  "PRINCE2 Agile" version 2017
Accredited course material including sample exam questions
PRINCE2 Agile exam(s) + Certificate
PDUs towards PMP recertification
What will I learn?
By the end of the course you will be ready to:
PRINCE2 Agile behaviors including collaboration, rich communication, self-organization, transparency and exploration
Guidance on how to apply agile behaviors, frameworks, concepts and techniques into a PRINCE2 project
Advice on using agile fundamentals and techniques such as collaborative teams, open communications and stand ups
Mappings between agile roles and those in a PRINCE2 project.  Where, for example, does a Scrum Master fit into a PRINCE2 project?
Take and pass the PRINCE2 Agile exam(s)
What are the course prerequisites?
You should be working in or have a good knowledge of project management. You need to complete about 10-20 hours of study before the course. We'll provide all the reading materials you need so you will be well prepared before you come to class.
You may skip the Foundation level entirely if you hold any of the following; PRINCE2 Foundation, PRINCE2 Practitioner, Project Management Professional® (PMP), Certified Associate in Project Management® (CAPM), and IMPA Levels A, B, C and D® (Certified Projects Director).
What are the course contents?
This is the official PRINCE2 Agile Foundation and Practitioner course approved by PEOPLECERT. The course covers the complete PRINCE2 Agile syllabus to Practitioner level and includes examination practice.
Key Learning Points
Understanding PRINCE2 Agile
The rationale for blending PRINCE2 and Agile
The PRINCE2 journey when using Agile
Are we there yet? Agile ways that may already exist in your project
Delivering with Confidence
Delivering good quality solutions on time and budget
Reducing risk by delivering working solutions early
Gaining faster ROI with multiple deliveries
Creating Better Requirements
Using MoSCoW and User Story techniques to identify business critical requirements
Designing agile requirements – reprioritizing and changing your mind!
Working as equal partners to build business and technical requirements
Requirements definition and PRINCE2 product descriptions
Team Building and Organization
Empowering your team to take ownership – creating a no-blame culture
Using co-location for faster solutions and business access
Involving the business to get buy-in and support
Getting PRINCE2 Agile off to a good start
Using prototyping to develop and find the best solution
Minimum Viable Product – learn the most info from the least work!
Using Agile best practices such as Scrum, Kanban and Lean
Key areas of focus for PRINCE2 Agile
Applying the Agilometer to tailor PRINCE2 appropriately
Improving communication with agile workshops
Frequent releases for early benefits realization
Registration
Contact Us: paradigmtraining@paradigmconsulting.com for more information or to register. 
*THIS TRAINING IS CANADA JOB GRANT ELIGIBLE
The Swirl logo™ is a trademark of AXELOS Limited, used under permission of AXELOS Limited. All rights reserved. PRINCE2 Agile® is a registered trademark of AXELOS Limited, used under permission of AXELOS Limited. All rights reserved.

This PRINCE2 Agile® course is offered through ATO OKAZY Consulting.