Paradigm Consulting Group Gives Back this Holiday Season
Paradigm firmly believes in giving back to the communities in which we call home. That is why this year; in lieu of  a corporate reception, we have made the decision to give back to a few of the many deserving non-profit organizations in Regina, Saskatoon, and Winnipeg. These organizations are pillars of our community and work hard every day to support our community's most vulnerable members.
Read more below on each of these amazing organizations and how we are pleased to give back this holiday season!
Regina Community Fridge
"From the Community, for the Community"
Located behind Cameron's Pharmacy at 3037 Dewdney Avenue, Regina's first Community Fridge was started in 2020 to combat the rising food security problem in Regina. Located in the core of the city, this fridge is stocked every single day with food, hygiene products and more by caring community members. Anyone and everyone is able to access the items within this fridge free of charge. This initiative was so well-accessed in our city that in the Spring of 2021, Cathedral Community Fridge was opened at 2104 Garnet Street. Paradigm headed to our nearest community grocery store to stock up on food items and more to drop off at the fridge.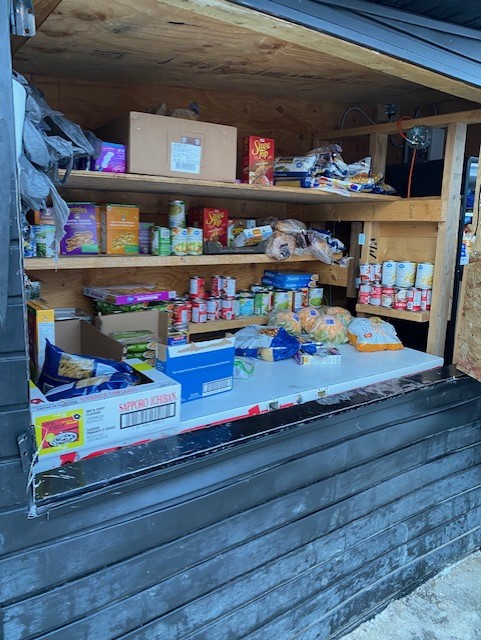 If you are interested in assisting either of the Community Fridges in Regina, be sure to follow them on social media to sign up for volunteer shifts, find out more information, or to donate food! @reginacommunityfridge @reginacommunityfridgecathedral
Regina Food Bank
"Fighting Hunger, Feeding Hope"
Regina Food Bank focuses on neighbors feeding neighbors and the provision of programs and services to the most vulnerable members of our community. Each day on average, 10,000 pounds of food goes out their doors to help fight food insecurity in Regina. This year, Paradigm was able to donate 6,000 meals to the Regina Food Bank, AND with the amazing support of Dilawri Auto Group and their Hampers of Home campaign which matches donations, this number was increased to a total of 12,000 MEALS!
To check out the many amazing programs the Regina Food Bank offers our community, check out their website: https://reginafoodbank.ca/
All Nations Hope Network
"Awasiw: A Place of Hope"
All Nations Hope's mission is "to support and assist First Nations, Métis and Inuit families living with HIV/AIDS and Hepatitis C to live meaningful lives, and to provide services, education, training, and awareness of HIV/AIDS and Hepatitis C in the community."
Awasiw: A Place of Hope is operated by All Nations Hope Network and provides a 24/7 warm, safe space in the heart of Downtown Regina. Their wonderful programming provides individuals with daily breakfasts and lunches as well as a warm meal during Saskatchewan's cold winter months. Additionally, donations can be warm winter clothing for individuals in our city.
To learn more about the amazing work All Nations Hope does in our community, visit their website at: All Nations Hope Network
Saskatoon Food Bank and Learning Centre
"Together we strive to solve hunger and create a hunger-free community"
With 1 in 4 children experiencing poverty in the province of Saskatchewan, the Saskatoon Food Bank and Learning Centre ensures that all people have access to safe, affordable and nutritious food. This amazing organization provides emergency nutrition to community members, and their Milk for Children Program provided over 50,000 liters of fresh milk to children and pregnant/nursing mothers to ensure children had access to the nutrients needed to positively contribute to their growth and development.
In addition to food programs, this organization provides Literacy Programming, Work Experience Programming, a Clothing Depot, and a Garden Patch which grows thousands of pounds of produce for their Emergency Food Hampers.
To learn more about all of the programming offered at SFBLC, check out: https://saskatoonfoodbank.org/
Aboriginal Family Service Centre: Eagle Heart Center
The Eagle Heart Center provides services and programming that support and empower children, youth, and families to attain a healthy lifestyle in all aspects of life, including: home, work, education, training, spiritual needs, and recreation. This organization believes that individual and family well-being is a critical component of building strong families, communities, and economic growth.
This year, Paradigm's donation went to support their Winter Wonderland programming which provides children and families with sleds, hockey sticks and skates to enjoy all that our city has to offer in the winter months with their family and friends!
To learn more about Eagle Heart Centre and all of their important work, view their website here: https://www.afscregina.ca/
Siloam Mission
"A Place for Support, Healing and Recovery"
Siloam Mission is a pillar of the Winnipeg community which provides an individualized approach to service and programming, and allows individuals to work towards a life they hope for, and to build a community of support and love. Their programming is expansive, including meal provision at their Drop-In Centre, a safe place to rest at Hannah's Place Emergency Shelter, a Spiritual Care Program, Arts & Wellness programming and the provision of counselling, housing assistance, and job readiness programming.
Our donation this year furthers their important work of a safe and warm place to sleep, warm clothing and footwear, and most importantly; dignity and respect to each individual who walks through their doors.
Siloam's full mission of Hope, Recovery and Transition can be viewed on their website: Siloam Mission
Harvest Manitoba – Food Bank Winnipeg
"Working together toward a healthier future for all where no Manitoban goes hungry"
Since 1985, Harvest Manitoba has worked tirelessly to feed any individual in need of a meal. Each year, this amazing organization collects and shares over 11 million pounds of food throughout the province! Their Breakfast2Go Program provides food kits, healthy breakfast foods and take home weekend food kits to school children. Their Grow-a-Row programming allows community members to donate vegetables that can be distributed to the over 83,000 Manitobans that require emergency food each and every month. Our donation this year ensures that 10 hardworking families will be provided with Harvest Holiday Hampers this holiday season.
To learn more about this fantastic organization, view their website: Food Bank Winnipeg | Food Bank Network – Harvest Manitoba
Ka Ni Kanichihk
"Those Who Lead"
Based in Winnipeg, Ka Ni Kanichick offers learning and healing practices which are rooted in traditional Indigenous knowledge and trauma-informed practices to work with men, women, youth and the 2 Spirit community to obtain financial independence. This important work is done holistically through skill-building and educational programming, as well as a culturally-based daycare centre, violence prevention, youth mentorship, intervention programs, and addressing both food and housing security. In addition, this organization works with the community at large to further reconciliation, outreach, and engagement.
Paradigm's donation this year will help to provide nutritious meals, and self-care hampers and other supports individuals need to access on their journey to health, wellness, and self reliance.
To view all the programming and initiatives Ka Ni Kanichihk performs in our community, view their website here: Home – Ka Ni Kanichihk
Safe Housing and Directed Empowerment (SHADE) Inc.
SHADE Inc. provides second-stage housing for immigrant and refugee families who have been impacted by family violence and/or domestic abuse. One-to-one counselling, safety planning, housing support, transportation, childcare, employment, advocacy, access to legal information, financial support and connection are just some of the important supports SHADE provides to many families through their MIRRORS, DIRECTED EMPOWERMENT and EMBRACE Programs.
In addition to this important work, this organization works to provide free workshops which offers individuals the tools to build healthy relationships, learn about the services and supports available to them, and builds a network within the community.
For more insight into this important work, check out SHADE Inc.'s website here: SHADE Inc.: Winnipeg non profit | Manitoba (shadewinnipeg.org)
When we come together as a community to mitigate the many issues facing our neighbours, our cities, and our provinces, we have the potential to make a large collective impact. The joint efforts of many are significantly larger than the individual efforts of the few, and this holiday season, we are excited to be joining the many community leaders and organizations who are helping to make our cities a stronger and more equitable place to live for all.
We look forward to another year of positively contributing to our communities in 2022!
From our Paradigm family to yours, Happy Holidays and all the best in the New Year.